Transforming Spaces: Expert Garage Builders in Denver, Colorado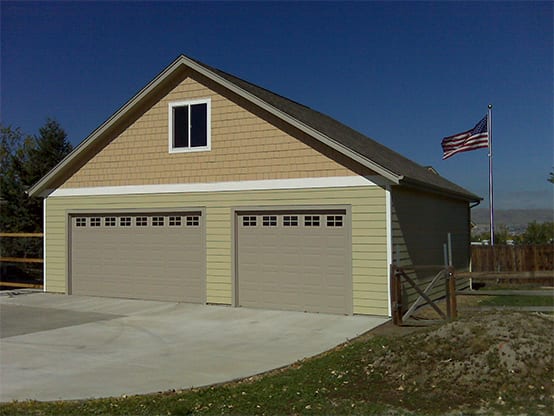 Preferred Garages, Inc. is the residential and commercial top garage builder of Denver, Colorado. We have been contracting in Colorado since 1990 with a focus on offering quality and customer satisfaction above all else. Our team works with you to ensure we create the custom garage or addition you want by completing our comprehensive analysis process that allows our experts to understand and bring your vision to life. As garage builders in Denver, we offer unlimited customization and design options to complete your custom-built garage. We provide services in Denver, Larimer County, Castle Rock, Monument, and the surrounding areas. Give us a call today to schedule your free estimate and start your garage construction project with our expert garage builders in Denver.

Our Garage Construction Company is Licensed & Insured
Each Custom-Built Garage is Built to Code – Any Size & Any Shape
EXPERIENCE OUR EXPERTISE: CUSTOM GARAGE BUILDERS IN DENVER
OUR GARAGE CONSTRUCTION COMPANY OFFERS
Our team of custom attached garage builders in Denver will walk you through the process of adding an attached garage to your home. Believe it or not, building an attached garage, in some cases, can be the easiest option. Learn more about how our custom garage builders in Denver will build an  attached garage to meet your needs.
Our team can build custom oversized/RV garages for customers in Denver and the surrounding areas. With the harsh winter elements and spring hailstorms we can experience in Colorado, it's best to store your RV and other outdoor equipment away for the season. Learn more about our team of garage builders in Denver and the benefits of an oversized/RV garage.
The Preferred Garages, Inc. team of Denver garage builders also offers additions services. Give us a call to learn more about the specifics of our addition services.
Detached car garages are the more common, traditional option when adding a custom garage onto your property. There are plenty of customizable options available and allows for further expansion later on. Learn more about the detached garages our custom garage builders of Denver can build for you.
We offer complete garage construction to customers in Denver and the surrounding areas which includes concrete services. Contact the expert garage builders in Denver at Preferred Garages, Inc. to learn more about our concrete services.
If it wasn't for Preferred Garages (Greg), I don't think I would have been able to do this garage.
He worked with the city to get my garage approved and it wasn't an easy process. He also worked tirelessly with the building department  through inspections. I made a few changes along the way and he had no issues with that and actually was quite helpful. Not only did he communicate with me during the process, the garage work was very well done. I would recommend them.
~ George J.
We are so pleased with our new garage and our neighbors love it too.
We contacted Preferred Garages after reaching out to 4 other contractors and we couldn't get anybody to follow through with even a quote. My husband found Preferred Garages online and Greg was out to our property within a couple of days. This was a big project  48′ x  50′ and it had to be 100% brick to match our house per our HOA guidelines. The project started on July 1st and we passed our final inspection on August 30th. The workers were always on time and they all were very professional. Thank you.
~ Anna M.