Garage siding is a crucial part of our custom garage company's building process as it protects the exterior of your garage from harmful weather elements such as snow, rain, hail, wind, and more. There are a variety of materials and styles that you can choose from when planning your garage build. Our Denver, CO-based garage experts will show and talk with you about the various garage siding options we offer, their individual benefits, and help decide which siding option will be the best for your custom-built garage.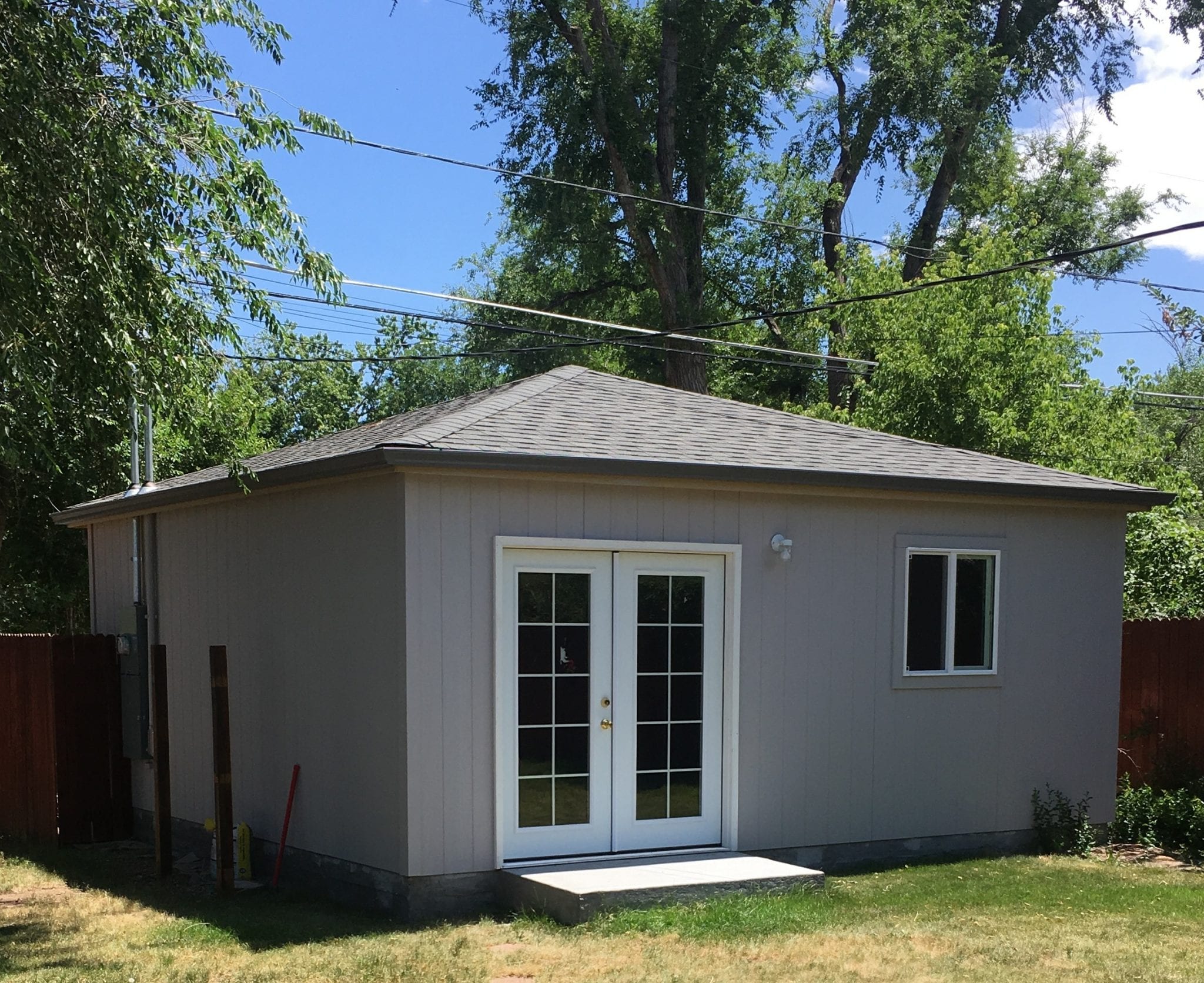 T-111 Siding
T-111 garage siding is one of the most common garage sidings options. It is available in 4×8, 4×9, 4×10 sheets with a wood grain texture, has a vertical groove that is usually 8" OC, and is pre-primed and ready for paint. T-111 siding is also the structural component of the wall sheathing for a custom-built garage. There are a few benefits of using T-111 siding including the fact that it is strong, highly functional, and incredibly durable.
Lap Siding
Lap siding is another one of the most commonly used siding options in the US. Our team recommends lap sidings as the first upgrade option. It is available in 4", 5", 6", 8", 9.5", and Cottage. Typically, lap siding comes in a 16' length with a pre-primed, ready to paint, wood grained texture. Preferred Garages, Inc. offers a couple of the above sizes in a smooth texture if you prefer that style. All lap siding products require structural under sheathing to help strengthen the walls of the garage.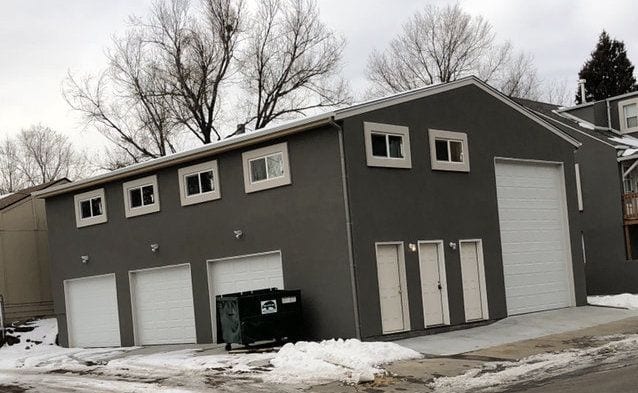 Real Stucco Siding
Another upgraded siding option for your custom-built garage is real stucco. Real stucco garage siding is incredibly durable, stands up well to harsh weather elements such as rain, snow, and wind, is low maintenance, and is resistant to fire and insects. Real stucco siding is applied with a vapor barrier, metal lathe, hard coat, and lastly the color coat. When deciding to use real stucco siding for your garage project, our team will help you decide between various colors and textures.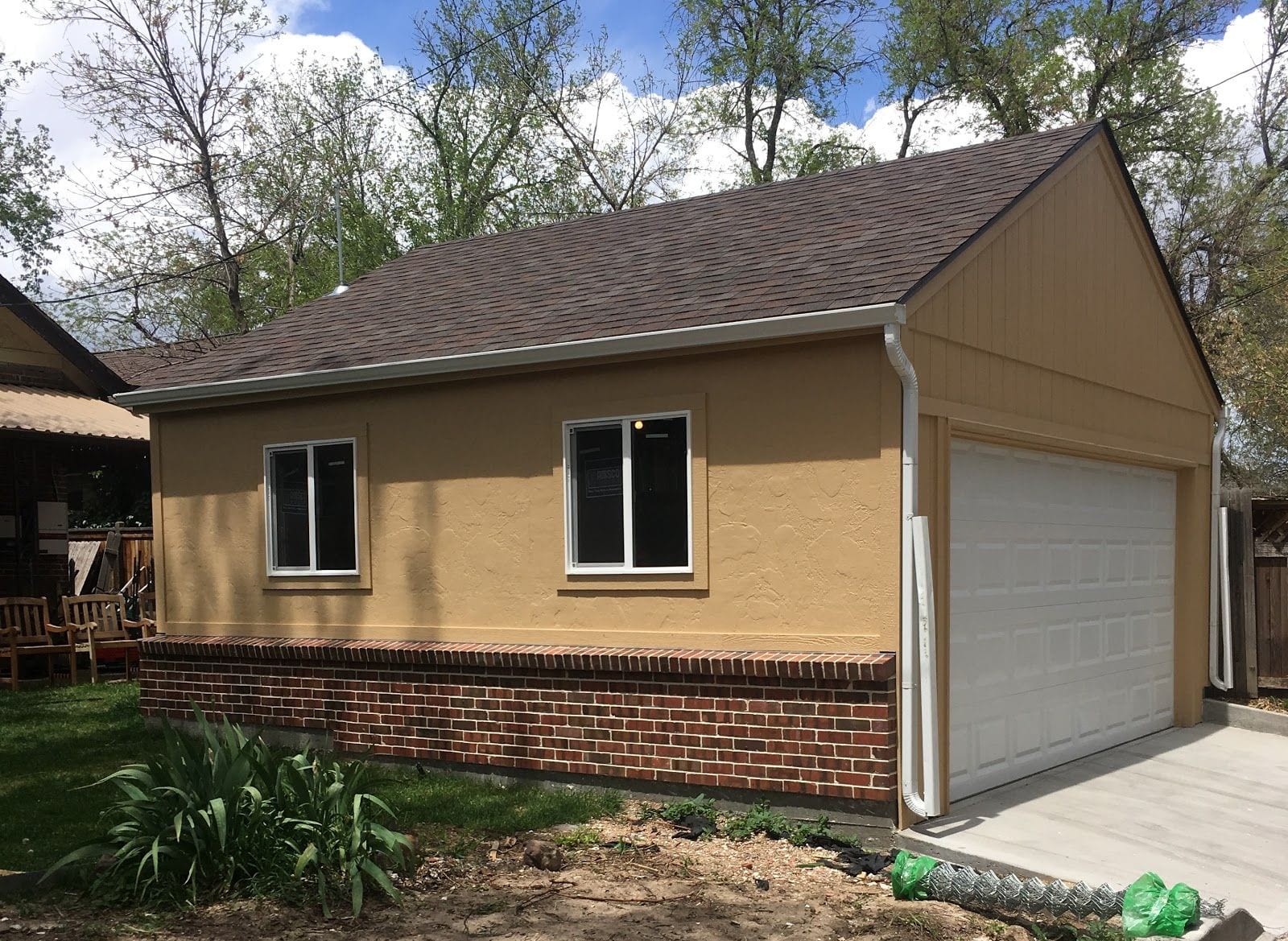 Stuccato Board
Staccato board siding is similar to lap siding, but is available in a 4×8, 4×9, or 4×10 sheet. It has a hand troweled texture, comes pre-primed, and is ready for paint. One of the benefits of using staccato board siding for your custom-built garage is that it is a much less expensive garage siding option versus real stucco siding.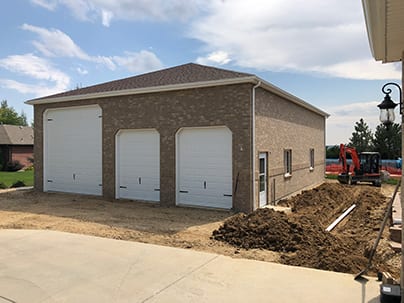 Brick
Brick siding is another incredibly durable and low maintenance garage siding option. It withstands heat and offers better fire protection than wood siding and is one of the more eco-friendly siding options. Work with our garage building experts to choose the color, shape, and size of your brick siding. Or if we are doing demolition and re-building a garage, we can often clean and re-use the brick siding. Standard laying, roloc, soldier courses, keystones, and coins are all available from Preferred Garages, Inc.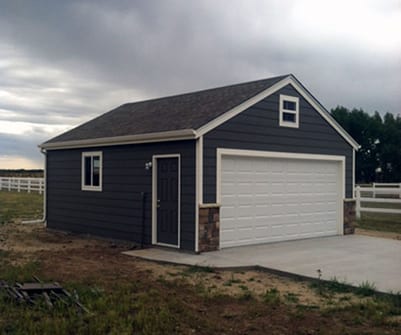 Stone
Stone garage siding is a thin layer of any stone that is used as a decorative siding option. Stone siding is considered to be a natural and sustainable garage siding option considering is one of the most available materials. One of the greatest benefits of brick siding is that it is an effective sound barrier. Our team will help you choose between a variety of brick siding options including cultured stone, real stone, stone caps, and stone sills. One important thing to keep in mind is stone siding is the most expensive option for garage exteriors.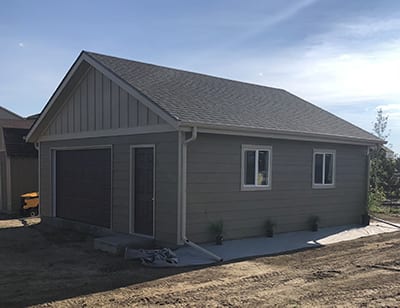 Board and Bat
Board and batten siding is thin strips of wood molding that are placed over the seams of panel boards. More technical, board and batten siding is a 4×8 sheathing (board) product with a wood grained or smooth texture with a 1x (bat) nailed to the face. The spacing of the bat is usually 16"-2' and the 1x material is usually 1"- 4" depending on your preference. This garage siding option is budget-friendly
Need help getting started?
If you are just starting to think about building a new garage on your property sometimes it's best to start with a quick phone call. There are many different options, rules, regulations and requirements that may affect your new structure as well as its pricing.
We are happy to give you a quick rough estimate over the phone. Or if you prefer, we can also make a site visit for your FREE ESTIMATE. Often some of our customers already have an idea of what they want or maybe already have plans, we can start there too.
Contact us today at 303-766-5577 or info@preferredgarages.com to schedule your FREE ESTIMATE!