Basic garages built from Preferred Garages, Inc. in Denver, CO come with 1 – 3×3 white vinyl slider, double pane window. Upgraded garage window options are available upon request to any shape, size, color, or material.
What Are Double Pane Windows?
Double-pane windows are window fixtures that have two panes of glass and can be insulated with argon gas between the two glass panes. The additional layer of insulation is what makes double pane windows a popular option for custom built garages. Additionally, the more glass panes mean more layers of protection and insulation between the weather and your garage.
Benefits of Double Pane Windows:
Energy efficient. In colder climates, like Colorado, double pane windows help keep the cold out and the heat in due to the additional insulation. Additionally, because double pane windows use less energy, they are less likely to negatively impact the environment. Go Green!
Adds to your home's value. Double pane windows are a valuable piece of a home or garage that homebuyers look for when purchasing a home due to these windows being more energy efficient than single pane windows and less impactful to the environment.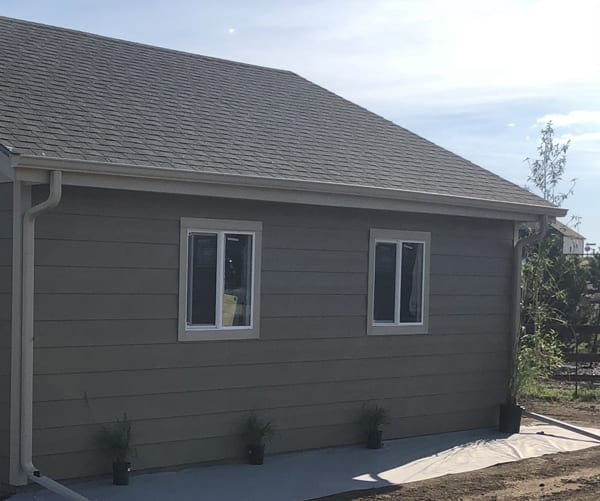 What Are Vinyl Sliding Windows?
Vinyl sliding windows, also referred to as a slider or gliding window, are glass windows that have sashes that slide in either direction and lift out for easy cleaning.
Benefits of Vinyl Sliding Windows:
Low Maintenance: Vinyl sliding windows are built using less parts which makes them easier to clean and care for and less maintenance is required.
Easy to Use: Slider windows are incredibly easy to slide open and close. This makes sliding vinyl windows are very functional option to install for your custom-built garage.
Call our team of garage builders in Denver, CO today to learn more about the garage window options and our custom garage company's building processes that will be used for your garage project.
Need help getting started?
If you are just starting to think about building a new garage on your property sometimes it's best to start with a quick phone call. There are many different options, rules, regulations and requirements that may affect your new structure as well as its pricing.
We are happy to give you a quick rough estimate over the phone. Or if you prefer, we can also make a site visit for your FREE ESTIMATE. Often some of our customers already have an idea of what they want or maybe already have plans, we can start there too.
Contact us today at 303-766-5577 or info@preferredgarages.com to schedule your FREE ESTIMATE!