Overhead Garage Door Options
Overhead garage doors are the one aspect of your custom-built garage that can make or break the curb appeal of your home. A front-facing attached garage must include the right overhead garage door. Whether you choose a classic glass panel garage door or a more aesthetic option like the carriage garage door, you will want to choose carefully. Luckily, the expert garage builders at Preferred Garages, serving Denver, CO, are here to walk you through the entire custom-built garage building process to ensure you chose the overhead garage door option that will best suit your home. Five of the most common garage door options that we install are included and described below for your convenience.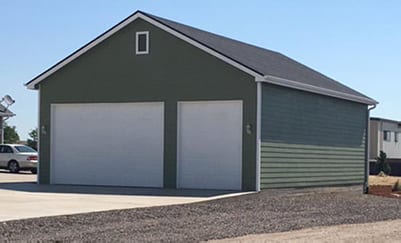 Raised Panel Steel Garage Door
Raised panel steel garage doors are the standard selection for most custom-built garages. Upgrade opportunities are unlimited with this selection. This option is available with wood grain doors, carriage house doors, flush panel, insulated, and several different colors. The raised panel steel garage doors at Preferred Garages are also available with glass panels and fake hinges or handle hardware.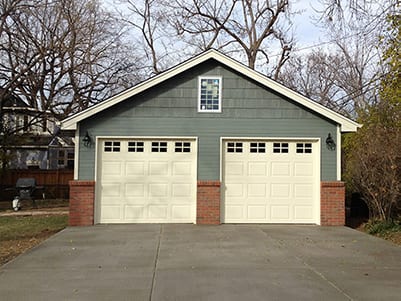 Glass Panel Garage Door
Glass panel garage doors are another popular choice when building your custom garage. The aluminum garage doors include a long or short glass panel, giving this option a specific look for your attached or detached garages. The glass included can be transparent, opaque, or tinted depending on your desired wants.
Custom Wood Grained Garage Door
Custom wood garage doors on an attached or detached garage compliment your homes' curb appeal. This specific type of overhead garage door option can be made using a variety of woods, hardware, trim, and more!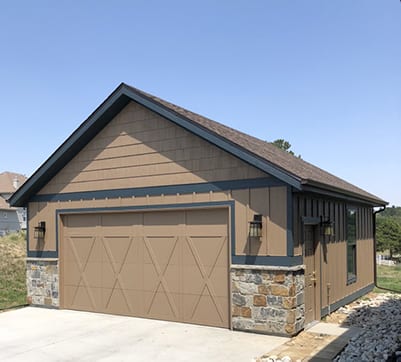 Carriage House Garage Door
Carriage house garage doors or barn-style garage doors are best known for the old school carriage house that was meant to store horse-drawn carriages. These types of garages were originally crafted from wood, but natural finishes are often more common for this type of garage door.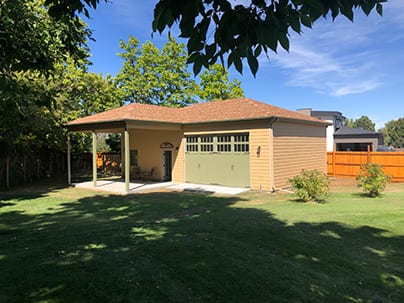 Carriage House Garage Door with Glass Panel
Exactly like described previously, but with a twist. The carriage house garage door with a glass panel offers an additional atheistic for customers liking the older style of garage doors, but wanting to modernize it by adding glass panels.
Need help getting started?
If you are just starting to think about building a new garage on your property sometimes it's best to start with a quick phone call. There are many different options, rules, regulations and requirements that may affect your new structure as well as its pricing.
We are happy to give you a quick rough estimate over the phone. Or if you prefer, we can also make a site visit for your FREE ESTIMATE. Often some of our customers already have an idea of what they want or maybe already have plans, we can start there too.
Contact us today at 303-766-5577 or info@preferredgarages.com to schedule your FREE ESTIMATE!