Custom Built Garage Dimensions
Click The Images Below for More Garage Dimension Details
A one-car garage can be created in sizes ranging from 12'x20′ to 14'x20′ or even larger, depending on your demands. The 12'x20′ garage size can be restrictive in that there is no extra storage space, which is a significant benefit of adding a garage to your home. Along with choosing the measurements of your single car garage, you can select the style of roof you want for your single car garage expansion. Depending on the current layout of your home, you can choose between hip, dutch hip, gable, reverse gable, shed, and gambrel roof. Finally, depending on the available land, one car garage can also be attached to the house or built separately as a detached garage.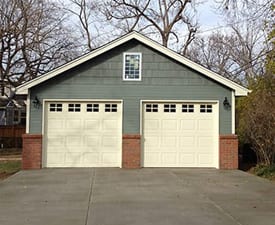 A standard two-car garage measures 20'x20' and has several storage options. It can accommodate two smaller vehicles with limited storage, larger vehicles with no storage, or one vehicle with plenty of storage. Additional dimensions for two-car garages range from 18'x20' – 24'x26'. Some of the most common custom two-car garages that allow for a workshop area are a loft or a living/office space above the garage, a mini gym, or even those they use as a man cave. Our Denver garage construction company has two alternatives for overhead doors for a two-car garage: one double overhead door or two single overhead doors.
A custom three-car attached/detached garage begins at 30'x20' to 34'x24' in size. A three-car garage can accommodate three average size vehicles and can be customized to meet your specific storage needs. A three-car garage is required to adequately keep your vehicles, outdoor leisure equipment, and/or yard maintenance items during the inclement weather that Colorado experiences throughout the year. Three-car garages, like two-car garages, allow you to host and entertain large groups without having to take up space inside your home. Preferred Garages, Inc. offers a variety of customizing options for three-car garages, including two distinct overhead door options: one double overhead door with a single overhead door or three single overhead doors.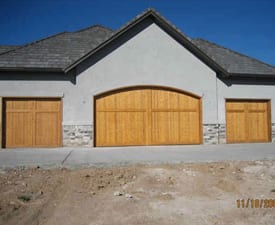 Preferred Garages, Inc. can build a unique four-car garage starting at 36'×20′ and ranging to 36'x24' and 36'x30'.  The 36'x20′ four-car garage will is the most popular option because it provides extra space for cabinetry, bike storage, recreational toys, and other items. You can also convert the extra space into a workshop, office, apartment, or half bath. Preferred Garages, Inc. offers the same customization possibilities for a four-car detached garage or attached garage. This includes the overhead door options: two double overhead doors, one double overhead door with two single overhead doors, or four single overhead doors.
Need help getting started?
If you are just starting to think about building a new garage on your property sometimes it's best to start with a quick phone call. There are many different options, rules, regulations and requirements that may affect your new structure as well as its pricing.
We are happy to give you a quick rough estimate over the phone. Or if you prefer, we can also make a site visit for your FREE ESTIMATE. Often some of our customers already have an idea of what they want or maybe already have plans, we can start there too.
Contact us today at 303-766-5577 or info@preferredgarages.com to schedule your FREE ESTIMATE!