Garage Electrical Wiring in Denver
These days, we ask more of our garages than ever before, and it's necessary to equip them to provide the power we need to run each of our tools and gadgets. An outlet or two here and there cannot cut it like it used to. Too many power tools and special equipment can easily overload a poorly planned electrical system, which can lead towards hazardous conditions such as an electrical fire. Our garage building contractors are skilled professionals that are experienced with walking you through the entire garage building process, including the electrical elements that will need to be installed.
First and foremost, determine the different activities you plan to do in the garage that will require power:
If the place is simply for parking cars or storage, then a few typical outlets will be enough. Most attached garages for homes built in the previous couple of decades have adequate wiring and enough outlets to hold these needs. An unattached, newly built garage, or renovation of a surviving freestanding garage without power, will require its separate system.
If you're thinking you want to add a water heater, install laundry appliances, or do woodworking or massive auto work, you'll need to make sure you allow for the proper wiring of the equipment. Many appliances, such as water heaters and clothes dryers, needs a circuit voltage of 240 volts. So does some heavy-duty equipment, like as a cabinet saw (an industrial-level table saw).
If you plan on working with a lot of equipment at the same time, it's best to assemble for 240 volts with higher-gauge (thickness) wiring to keep its system from overloading and tripping breakers. At 240 volts, a power tool will draw half as many amps while running as it would at 120 voltage. The higher the amp draw, the closer you get to a tripped breaker; if you're running several tools at once, that could easily happen.
Garage Construction Company in Denver Offering Garage Electric Set Up Services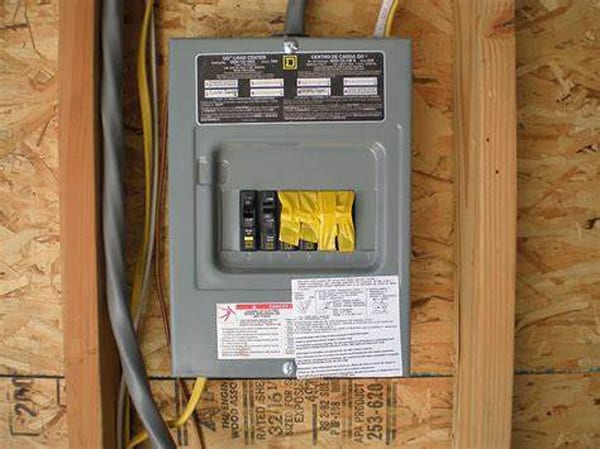 Preferred Garages, Inc. Electrical Offerings:
Basic Packages (3 outlets, 2 lights)
Overhead
Underground
Sub Panels
Existing Panel Upgrades
New Panel With New Meter Housings
Additional Lights and Outlets
220V & 240V
Garages are prone to moisture, especially here in Colorado: rain, sleet, and snow blowing in through open doors, water dripping off vehicles, or a water heater mishap. Therefore, Ground Fault Circuit Interrupter (GFCI) safety outlets are a must. This is the kind of outlet that you can find in bathrooms and kitchens that prevent you in being electrocuted if you come in contact with water while operating an electrical device.
Convenience is another factor for a garage electrical system. Standard outlet is spaced apart, a foot or so above the floor. If you plan on putting workbenches along the walls, you'll also want outlets at the same above-the-counter height as in a kitchen. This way, you won't have to release a cord behind the bench top.
For dedicated workstations, you may also need to install a drop cord outlet, which will let you to plug in tools overhead so you aren't running cords across the floor. If you're adding garage door openers, you'll need outlets on the ceiling to power those. These outlets can be used for installing a retractable power cable reel, which can also double as a drop cord and will provide you power access across an entire garage, extending to the driveway if necessary. For additional outside access, in mind, install an outlet or two on the exterior wall of the garage or inside near the doors.
While this can be considered an overwhelming amount of information to think about, our expert garage contractors are here to help! Preferred Garages, Inc. is experienced and trained to ensure your custom-built garage includes all necessary electrical pieces. Contact us today a free consultation regarding your garage project.
Need help getting started?
If you are just starting to think about building a new garage on your property sometimes it's best to start with a quick phone call. There are many different options, rules, regulations and requirements that may affect your new structure as well as its pricing.
We are happy to give you a quick rough estimate over the phone. Or if you prefer, we can also make a site visit for your FREE ESTIMATE. Often some of our customers already have an idea of what they want or maybe already have plans, we can start there too.
Contact us today at 303-766-5577 or info@preferredgarages.com to schedule your FREE ESTIMATE!