Reverse Gable Roof Garage Style
What Is A Reverse Gable Roof?
A reverse gable roof has roof sections that extend in the opposite direction from the normal gable construction. Another way to explain what a reverse gable roof is that it is similar to a regular gable roof, but it has the ridgeline going the opposite direction. You can determine the difference between the regular gable roof and a reverse gable roof style by looking at the gutters and determining if they are in the front and back of the house versus on the sides of the house.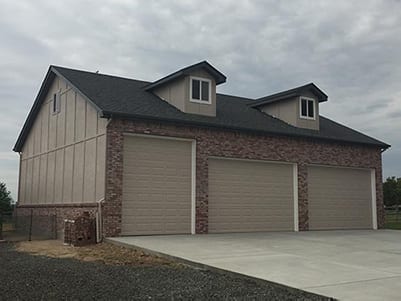 What Are The Benefits Of A Reverse Gable Roof?
The reverse gable roof style for garages offers many of the same benefits that the regular gable roof offers, such as, creating additional attic and storage space, serving as a reliable water drainage system by allowing the water to easily slide off of the roof, and this particular style is a long-lasting, affordable roofing style for homeowners.
What Are The Uses Of A Reverse Gable Roof?
One of the most common uses of a reverse gable roof style garage is to add windows to a homeowner's roof. Without a reverse gable roof, homeowners would be forced to settle with a skylight in the roof or windows solely on the side of the building. While these options can work for an attic, most people would prefer a traditional window in order to add value to the home or garage. Adding a reverse gable roof section to your current home or garage can be quite simple and is sure to add an attractive feature to the exterior of a homeowner's garage or home.
Contact the expert garage builders at Preferred Garages, Inc. today to schedule a free consultation and learn more about what a reverse gable roof entails and how it will add value to your property.